If you think you know the country Germany all so well, you need to think twice, here in this article, I will be giving out 30 solid facts that you may not know about Germany.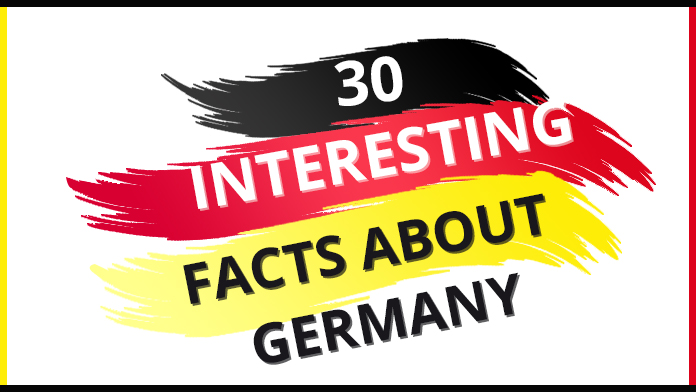 Germany happens to be one of the world leaders in Energy and Climate Policies: 33% of the country now lives on renewable energy. In 2011 they came to a consensus to shut down all nuclear stations by the year 2022. They have plans to replace them with renewable energies and storage for electricity.
A homosexual is allowed to adopt in Germany: It is illegal to criticize or discriminate a gay or lesbian in Germany. Also, berlin happens to be the third biggest gay city in the whole of Europe with a total of about 300,000 homosexuals. The German legislation allows on civil union for homosexuals and not marriage. Also, they are only allowed 'successive adoption'. They can't adopt as a couple, but the can both adopt the same child individually.
The biggest folk festival in the world is in Munich Oktoberfest: It all stated in 1810 when crown Prince Ludwig celebrated his wedding to Princess Terese on the 12th of October. The festival actually starts in the last week of September, and this is one festival where the beer never runs out.
In 2012, Angela Merkel became the second most powerful person in the world: She has already occupied the position of most powerful woman in the world. Then in 2012, Forbes magazine named her the second most powerful person in the world. She has occupied the position of German chancellor since 2005. In 2009, Mattel created a Barbie doll of Angela Merkel to celebrate Barbie's 50th anniversary.
Smoking in public places is illegal but drinking is legal: in the year 2007, it was passed into law that citizens must not smoke in public places, buildings and on public transport. You can only drink alcohol in public.
Germany ranks second in the league of beer consumers in Europe: Sequel to Czech Republic, Germany happens to be the second biggest consumer of beer in Europe. In the year 2013, Germany consumed a total of 2.55 billion gallons of beer, this happens to be the lowest since 1990. Germany has over 1200 breweries and over 5000 different brands of beer.
Germany is a world leading book nation: Germany publishes about 94,000 books annually. German poet and theologian Johann Rist was the author of one of the first magazines to be published (Erbauliche Monaths-Unterredungen). Germany also happens to have one of the most important book publishing events in the world; the International Frankfurt Book fair.
Germany as the most cultural places and activities in the world: In Germany, more people attend exhibitions rather than football matches. Germany has more art galleries, museums, and exhibition halls than any other country in the world. As at 2013, Germany has 8,800 libraries, 130 professional orchestras, 820 theatres, and 6,200 museums.
Germany ranks high in largest car manufacturers in the world: Germany happens to be the manufacturers of the following popular brands of cars; Audi, BMW, Mercedes, and Volks Wagen. In 2015, Germany sold a total of 6million cars.
SME's make up about 52% of Germany's total economy: The number of work force for these SMEs sum unto about 14million people. Research shows that 4 out of every 5 trainees work in SMEs. Research also shows that 99% of German companies are SMEs (Small and Medium- sized Enterprise).
Germany has the strongest economy in EU: Germany has excelled in so many fields including having a solid and formidable economy with a GDP of $3.84trillion. They are also the number 4 in the world behind the US, china and Japan.
Germany has very low unemployment rate: In 2015, Germany adopted a minimum wage system. Men work mostly full-time, while women mostly with children usually work part-time. Research show that, as at 2016; Youth unemployment rate was at 7.7%, normal unemployment rate was at 4.2%, and more than 50% of people (43.3million) with the age grade of 15-64 were under employment.
Germany has a formidable educational system: Following the OECD's PISA scale, students in Germany score higher than average. Unlike the 74.2% in the EU, 86% of adults in Germany between 25-64years have a minimum of a high school diploma.
Germany has the largest zoo in the world: Berlin's Zoologischer Garten happens to be the largest zoo in the world. In addition to having the largest zoo in the world, Germany also have more than 400 registered zoos and about 700 facilities. These facilities include; safari parks, animal reserves, bird parks, aquariums, wildlife parks, and zoological gardens.
Germany has a high life expectancy rate: The Global AgeWatch Index 2015 ranked Germany 4th out of 96 countries for best countries for the elderly people and their well-being. Over 26% of the country's population is above the age of 60. Life expectancy in Germany is 83 for men and 78 for women.
Germany tops EU population chart: Currently Germany has a population of about 80.9 million; this population however is in decline. UN predict for this to drop to about 67 million by 2060. 40% of houses in Germany are single-person households. Germany also has one of the lowest birthrates in the world.
Some of the most popular inventions in the world are credited to Germans: Invention such as these can be accredited to the Germans; LCD screen, Walkman, jet engine, motorcycle, automobile engine, differential gear, insulin, pocket watch, paraffin, light bulb, automated calculator, and automobile.
Germany has the second most Punctual Large airport in the world: The Airport in Munich happens to be the second most punctual airport in the world, sequel to the Tokyo airport. This report comes from OAG.
Germany is also famous for thinkers and poets: Germany can boast of the following people; Beethoven, Goethe, and Bach. Composers such as; R. Strauss, Handel, Mendelssohn, Schumann, Wagner, and Brahms. Also, these great philosophers were also Germans; Heidegger, Nietzsche, Schopenhauer, Hegel, and Kant.
Germany has changed its capital seven times: Germany's capital city has moved between these cities till date; Aachen (during the Carolingian Empire), Regensburg, Frankfurt-am-Main, Nuremberg, Berlin, and Weimar (unofficially, during unrest in Berlin), Bonn (and East Berlin), and, since 1990, Berlin again.
The German language has the most native speakers in Europe: In addition to being the most populated county in the EU, they also have the highest number of people speaking a native language in Europe. The German language was the once the lingua franca for central, eastern and northern Europe.
Germany was formerly a group of small kingdoms, and duchies: 300 crown princes' came together to form what we know today as Germany in 1648. This was called the "Peace of West Phalia". In 1701 the name was changed to Prussia, in 1815 the name was changed to Germanic confederation, and in 1871 it was changed to German confederation
Germany consumes over 800million Currywurst annually: This special sausage usually served with a spicy sauce has become a tradition in Germany today. The city of berlin alone consumes over 7 million Currywurst annually. The love for this snack moved the Germans to create a museum for it.
Higher education is free in Germany even for foreigners: In the year 2014, the German confederation passed a bill into law. Bachelor's degree for all public universities was going to be free of charge. The politicians thought it to be socially unjust to have to pay for higher education.
The Second World War led to the origination of Fanta in Germany: The trade embargo during the Second World War which stopped the importing of Coca-Cola led the head of Coca-Cola in Germany to make a another drink making use of leftover materials such as apple pomace and whey. This drink is what we know as Fanta today.
The country Germany has a right to pick what name you give your child: According to the German constitution, you cannot give your child a name that doesn't belong to a gender; neither can you use a family name as first name. As at 2014, Sophie and Maximillian were the most popular names for children in Germany.
It's a criminal offence to run out of fuel in the German Autobahn: You can be fined or receive as much as a 6months license suspension if you are park on the highway because of an empty tank. It is also a criminal offence to run or walk on the highway. You would pay as much as 90Euros as fine.
It is Legal to break out of jail in Germany: In Germany, prisoners have the right to break out of jail, as it is not a criminal offence to escape jail. But if you damage any property, or injure anybody during the course of their escape.
Berlin has more bridges than Venice: The capital city of berlin has the biggest water network in Europe. Berlin has around 180km of mobile water, 59.8 square kilometer of water. Research also shows that the city of berlin has 960 bridges.
Germany pioneered the Daylight Saving Time (DST): The DST first occurred during the World War 1 in 1916. It was actually put in place to preserve energy. It is also called Summer Time.
What am I missing here? Let me know in the comments and I'll add it in!